Menu icons for submenus
I'd find it helpful if icons for menu items were displayed (just like XnView MP):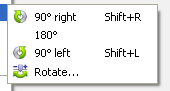 When displaying all the XnShell functionality in the main menu (Options > Submenu: No sub-menu), the icons might be irritating and too many icons in the context menu. But when displayed in submenu, the menu icons would be very helpful. And menu items which are always in a submenu (e.g. menu items in "Rotate" submenu) could always have menu icons.