While choosing image files for watermark, files in GIF format can not be selected.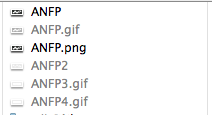 cannot choose GIF file for watermark
螢幕快照 2015-01-25 上午12.25.32.png (12.04 KiB) Viewed 313 times
The other formats such as PNG, JPG or TIFF work well.
I don't know if this is a special case for my MAC.
I would like to add GIF watermark without background color.
Thank for your help and your nice softwares.
LiuPh