Moderators: XnTriq, helmut, xnview
xnview

Author of XnView
Posts: 42453
Joined: Mon Oct 13, 2003 7:31 am
Location: France
marsh wrote:With Pierre's proposal I'm not sure it should be called a filter.
In others software, it's called filter
Pierre.
JohnFredC

XnThusiast
Posts: 2010
Joined: Wed Mar 17, 2004 8:33 pm
Location: Sarasota Florida
xnview wrote:You have a filter in windows explorer????
No, not a filter, but a dropdown menu in each column header with various
sorting
options:
In Excel "Table mode", the same sort of menu is in the column labels and offers
filtering
AND sorting functions:
In MS Access, datasheet controls have similar capability in the context menu for any cell. Here is one for a column that contains dates: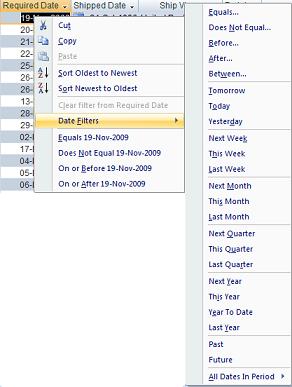 Designing a GUI for sorting and filtering a panel of data, whether displayed in a grid or thumbs,
is well understood
and all the heavy lifting has been done by countless developers. My suggestion is to implement something like the above excellent approach for sorting and filtering the XnView file/thumb list.
Failing that approach, the Lightroom implementation (a separate filter panel in the browser) would also work well.
John